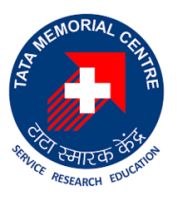 The Tata Memorial Hospital is the first Cancer care centres in India started by Sir Dorabji Tata Trust in 1941 and in 1957 the takeover by Ministry of Health. Tata Memorial Hospital is a post-graduate teaching centre providing education in cancer for students and trainees, in the hospital the Oncology department has objective on focusing on cancer prevention and early detection, cancer screening, the TMC is affiliated to the University of Mumbai, National Board of Examinations and Maharashtra University of Health Sciences. The admission and recruitment process is as per the Govt. norms, we provide you all required information and answer to your questions. Students looking for the admission note that every year only 80 post-graduate students can register for Master's or Doctorate courses.
Address of communication for any recruitment query
Tata Memorial Center.
Dr. E Borges Road
Parel, Mumbai - 400 012
Tel. +91-22- 24177000, 24146750 - 55
Email: hrd@tmc.gov.in (for administrative - HRD matters)
Tata Memorial Center Latest Recruitment and other News.
[jr_shc taxonomy="job_tag" terms="tata-memorial-center" terms_operator="IN"]