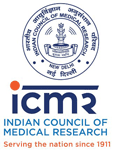 The Indian Council of Medical Research (ICMR) is the oldest and largest medical research bodies not only in India but also in the world. The main function of ICMR is to monitor biomedical research in India. The main objective of the council is to conduct research with National health priorities to control and manage diseases which are easily communicable, fertility control, nutritional disorders, child health, research on diseases like blindness, cancer, cardiovascular, diabetes and other metabolic disorders. In addition the ICMR is also promoting research in medical by establishing advance research centers in different departments of Medical Colleges, Universities and other non-ICMR Research Institutes.


Address of communication for any recruitment query
Indian Council of Medical Research
V. Ramalingaswami Bhawan
P.O. Box No. 4911
Ansari Nagar, New Delhi - 110029, India
Indian Council of Medical Research Recruitment and other News.
[jr_shc taxonomy="job_tag" terms="indian-council-of-medical-research" terms_operator="IN"]