When you are preparing for any competitive exam either IBPS, SSC, UPSC or else you should learn some tricky technics to solve the
Maths section, Coding and Decoding question, these sections are very confusing and somewhere you usually take more time to solve their questions as compare to other sections, but if you know some basic techniques, which are very much easy to learn and understand then you can easily crack these sections. After a long research we found that in every competitive exam generally Reasoning Aptitude, Quantitative Aptitude, English Language, Computer Knowledge, and General Awareness covers 50% of the syllabus and these sections are very much easy as compare to subjective sections but most of the students are very much afraid just because they don't know any shortcut or any tip to solve these sections, So here we are giving you some important and useful exam tips and teach you some tricky method with the help interesting examples and videos that helps you in every competitive exam to attempt most of the questions. . Apart from this we will also teach you Time Management tips so that you can use the time to the maximum and can attempt most of the questions.
Time Management Tips
If you understand the logic behind the questions of Reasoning Aptitude and Quantitative Aptitude section then you can easily collect good marks, for that you just need to do practice on regular basis. Same with the English Language but when we are talking about the Computer Knowledge and General Awareness sections, these sections are just like the history, you just go through the syllabus and do some mock tests which are freely available on our website.
Go for that section first which is your strength like if you are having a good command in English to score maximum marks and can easily solve English questions within a short time period then attempt English section first, this will save your time to solve the other sections comfortably. Divide your paper according to your knowledge and practice strength, not on the total marks. Doing this will increase your self-confidence which will help you on the rest of your exam and at the end you realize that you are now in a comfort zone.
Update yourself and daily practice – There is a saying "Practice makes a man perfect" so practice daily in a timely manner so that you can cover each section, for that you need to make a time table as without managing your time it become very hard for you to crack any exam, I suggest you to take regular test on our website on and watch online class video, they are really helpful for you and this may also help you in improving your English. Watch T.V specially NEWS and read General Awareness magazines this will help you to collect easy marks in General Awareness section of any competitive exam.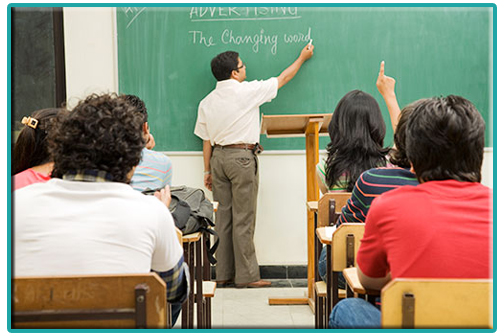 Join Coaching Classes - As we all are very much aware that now exams are very competitive and as per my opinion, you should join some good coaching classes, this can be really beneficial for you to crack you competitive exam as they will teach you not only the exam syllabus but they will let you know about the basic and useful tips that really helps you like they will provide you study material, refer you some useful books, explain you the previous exam pattern, help you in knowing what's going on around the world, what to read, time management tips etc…. So I personally suggest you to join some coaching institute.
How to Manage Time in Examination Hall?
Before Starting Your Test
Tip 1
Have a Overview of the Test Booklet: Take a few seconds to preview the rest booklet instead of beginning to answer the question straightaway. This will give an idea about what you are required to answer and on finding certain familiar questions you will gain confidence and fear is eliminated.
Tip 2
Budget Your Composite Time: For all competitive examinations there is a prescribed time limit or duration in which you have to attempt all the sections of the test paper. Therefore, budget your time by ear-marking fixed time periods for each section. Time is a very crucial factor for your success and it is very important that you budget your time carefully so that you are able to cover all the sections of your test paper.
After Starting Your Test
When You are Sure about the Answer: In objective type questions, if you recognize one of the choices immediately as the correct choice, don't spend any time looking at other choices. Mark the answer sheet with the choice that first 'hit' you. There is no need, in this case, to waste your time considering the other choices that are necessarily incorrect.
Tip 1
Attempt Easy Questions First: Attempt all the easy questions first of all the sections. As already said, all questions carry equal marks and attempting any difficult or hard questions does not give you any extra credit or extra mark. It does not pay to spend even a fraction of extra second answering a hard question when there may be some easy questions left for you to answer. In other words, to increase your score don't leave any easy questions at the cost of wasting your time on a difficult or hard question.
Tip 2
When You Come Across a Tough Question: If you come across a hard question, skip it straightaway and do not spend any time on it, but save that time for the next questions. Skipping hard questions, helps you in two ways, viz…: First, you will not leave any easy question unattempted at the cost of solving a difficult one. Second while attempting the next question, your sub-conscious mind may still be working on the hard question which you have skipped and there may be chances of your finding a correct answer in the mean time. Return to the hard later- you will probably have the time to do so.
Tip 3
Speed is an Important Factor: Speed is an important factor in taking competitive examinations. Although accuracy is of prime importance, it is advisable to use time economically. If you cannot finish all the questions of a particular section of the test paper in the time you have earmarked for that section, do not panic. No one is expected to do all the questions correctly. It is wise to work as rapidly as possible without wasting any time on one particular question as all questions carry equal marks.
Tip 4
When You Skip a Hard Question: If you skip any hard question, be sure to skip the serial number on the answer sheet also. Be sure that each answer marked is in the space numbered for the particular question you are answering in your test paper.
Tip 5
What about Intelligent Guessing?: No, doubt it is true that answers should be as accurate as possible, but probably true answers also count the same as absolutely sure answers. In both cases, you will get one mark in any case. If you are not sure of the correct answer but have some knowledge of the question and are able to eliminate one or more of the answer choices as wrong, your chances of guessing sometimes pays as the answer evaluating machine (in case answers are checked by a computer) or the examiner (if answers are checked manually), reads only the ovals you blacken without regard to whether you were sure or probably sure for an answer.
Caution: This is, however, not recommended in case negative marking has been specifically mentioned in the test.
Some Guessing Tricks: These are not specifically recommended, but may prove helpful in some cases, especially if there is no negative marking:
It has been observed that mostly the correct answer choices are marked (c), (d) or (e) and/or (3), (4) and (5) and in very rare cases it is (a) or (b) and/or (1) or (2). Therefore, if you are making a guess and there is no negative marking, it is advantageous to choose any of the last choices as your guessed answer.
If the answer you are guessing is in between two questions which have identical responses as correct, do not choose the same number of response for your guessed answer. In other words, if the answer choices of the questions before and after the one you are going to guess is same, avoid choosing the same number. For example, if the answer choices of a question before and after the one you are guessing is (b), avoid marking (b) again as your guessed answer for the question in between the two questions till it is 'not absolutely sure and may be correct' choice.
At no cost leave the questions about which you are probably sure and are able to eliminate one or more choices.
Tip 6
Save Fractions of Seconds: By attempting easy questions first, which may require less time to answer, you will be able to save fractions of seconds on each questions. Make use of the saved fractions of seconds to tackle and review the hard questions which you have left unattempted.
Tip 7
Cover all Sections of the Test: As already mentioned, the test will have a minimum of four sections, each covering a different discipline. It is essential to tackle all the given sections. It will not pay if you answer all the questions of the first two or three sections and leave one or two sections totally unattempted. If you find that you are able to answer only 60-65 per cent questions of a particular section within the time you have earmarked from your total composite time for the entire test paper, go to the next section. It is much better to answer only 60- 65 per cent questions of each section rather than leaving one section blank or unattempted. Hence, once you have attempted all the easy questions of one section, go the next section without reviewing the hard or skipped questions of the first section now.
Towards the end of the test
If there is some time before the supervisor announces the end of the test, spend the few remaining seconds or minutes as follows:
Tip 1
Check Unanswered Questions: Be sure that you answered every question that you could. Make quick guesses now to answer the 'probably true' or 'may be correct' questions.
Tip 2
Check any Double Answers: Make sure that your sheet has only one response to each question. If at any place, through an oversight, two answer choices are marked, you will receive no credit, even though one of them may be absolutely correct. Carefully erase the double answers.
Tip 3
Check the Ovals: Ensure that the ovals or circles (O) in your answer sheet are fully blackened as explained earlier. If need be, blacken them again if you find extra time at your disposal.
Tip 4
Check Your Roll Number/Code Numbers: Make sure that you have marked your roll number and code number correctly. It is always advisable to check it again before handing over the answer booklet to the supervisor.